Click on one of the options below to see where we're building right now
In everything we do we demand the best.
The best quality, the best experience, and the best attitude.
That's why we have a firm No Assholes Allowed policy.
From our buyers to our customer care team to our contractors, we value the quality of our relationships and the experience that we can all have when we work together to help you build your new home.
When you buy a home with Zia, you're more than a number on a spreadsheet.
You're the mother-daughter duo working with us to build an amazing home that you can continue to grow closer in.
You're the family retiring from Fort Bliss who's ready to settle down in one spot after moving around the world.
You're the couple purchasing your home that you can't wait to raise your kids in.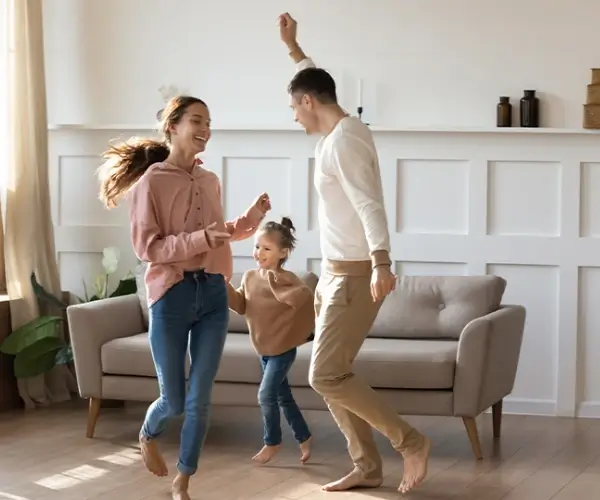 Choosing the right forever home for you and your family is no joke. There are options upon options – and it's hard to know which is right for you. That's why at Zia Homes we take a lot of the guesswork out of buying a new home.
Our sole job is to learn about you, your goals, and your vision for your future… and then help you get there withOUT charging you for every single little thing you want in your home. That's why every single one of Zia Homes' floor plans comes with a luxury upgrade amenity package included – no additional charge!
We're talking energy-saving windows, upgraded countertops, and fancy-schmancy bathroom.
All the stuff you didn't know mattered… until you had it.
No matter what you need, we've got a floor plan guaranteed to turn you on. Whether you're looking for a no-stress kinda place (in which case you've got to meet Calico!) or a home that's as grand as you are (check out Cashmere)… we've got you covered.
[ess_grid alias="blog-grid"][/ess_grid]
Marvello is a refined gentleman, prepared to give you exactly the high luxury experience you and your family deserve. 5 large bedrooms offer plenty of space to grow while the rest of the home is richly appointed to help you live lavishly while also being comfortably you. Are you ready to discover how Marvello can help you live your best life?
We're not trying to make you stretch your budget to get exactly what you want. So we include select upgrades in every single Zia Home we build…
You've Helped Us Achieve Our Dream!
We just purchased our first home with Zia and the experience was amazing.
Everyone had told us what a difficult process home buying is, and I can honestly say that was not true with Zia. They were very attentive and helpful when it came to the home buying process. The houses are beautiful and give so many choices when it comes to color, floor plans, backsplashes, and customizing your home.
Special shout-out to Randy and Dan who helped our family achieve our dream of becoming home owners. We really appreciate you all for the work you do.
In Love With My Zia Home!
Highly recommended! Had a great experience with Diana and Ashley when they were showing the house I bought. The house is great with amazing features and beautiful finishes. In love with the house! Thank you for everything!
They Didn't Charge for Upgrades!
This is our first home purchase and had a great experience. They include many amenities that other builders would charge for, 5k in upgrades! They took care of the closing costs, they landscape the front for you included, the warranties offered are top of the line, it's quite the list.
Special shout out to Ashley, Randy and Diana cause their attitudes were always awesome and any questions we had they always ensured we got answered. Highly recommend!
An Extraordinary Experience!
Zia homes has definitely made the building of our home an extraordinary experience! Glad we chose them as our builders. I would not have been able to go through the process without their staff being so helpful and hands on.
Practically Everything Is Included!
Zia homes has been nothing but great to our family. Being able to build from the ground up, select our desired lot. Coming from California, where everything is an upgrade, its great to see that here practically everything is included! We are excited to move in!
Your Future Home Is Just Waiting To Meet You And Help You Fall In Love With The Life Zia Homes Can Help You Build.
Simply fill out the form below and one of our New Home Specialists will connect with you to talk about what you're looking for... and how Zia Homes is your perfect match.